World-leading approach to patient safety: Working with the Healthcare Safety Investigation Branch to set the standard for national safety investigations
By Pete McCarthy - October 31, 2018
Cranfield University, Safety and Accident Investigation Centre (CSAIC) has been working closely with national and international state level safety investigation organisations for more than four decades. CSAIC delivered their first course aimed specifically at training Air Accident Investigators in 1977, attracting an international cohort of students that paved the way for the hugely successful accident investigation course.
The following decades (after some very high profile, high impact accidents – Herald of Free Enterprise and Ladbroke Grove) saw the emergence of two new independent state level investigation branches, those being the Marine Accidents Investigation Branch (MAIB) in 1989 and the Rail Accidents Investigation Branch (RAIB) in 2005.
Together these accident investigation branches have continued to work closely with Cranfield University and, providing strategic guidance for the ongoing training and development of the accident investigators working in these crucial areas of safety.
Cranfield's formal partnership with these independent investigation organisations is maintained through their close involvement as an Industry Advisory Board, resulting in the support of doctoral research aiming to improve the performance and standards of safety investigations across their domains.
The formation of the Healthcare Safety Investigation Branch (HSIB) was announced in early 2016. This followed recommendations put forward by a healthcare safety advisory panel, which were accepted by the then Secretary of State for Health (Jeremy Hunt). This saw the formation of the world's first state level Healthcare Safety Investigator. Independent from the many regulatory bodies across healthcare, they could offer a new perspective with regard to investigation in the National Health Service (NHS) in England, they would also strive to develop meaningful and influential safety recommendations aimed at driving positive change at a wider level (as can be determined from their mission statement below):
"The formation of HSIB is a world-first and represents a landmark moment for the NHS in England. Our mission is simple: to help improve safety in our healthcare system by developing recommendations and sharing lessons from our investigations. This is underpinned by a philosophy focused on safety and improvement that avoids blame or liability".
From inception, CSAIC has worked closely with the newly formed HSIB, we (along with our network of safety investigation specialists) developed an investigator training course which would prepare the new team for the challenges they would face when investigating complex events within healthcare. The HSIB were meticulous with their recruitment and were able to draw high quality specialists from healthcare, wider safety investigation domains, Human Factors (HF), clinical practice and academia into the branch – these professional investigators now continue to work with CSAIC to ensure on-going research and training remains up to date and relevant to the specific
domain of healthcare.

Following their training at Cranfield University in early 2017, the HSIB went "live" in April of that year. Since then the National Investigators have been dispersed across NHS England, applying their newly acquired skills (methodologies and approaches to healthcare safety investigation):


Approach
Open and honest
Transparent
Independent
Integrity
Professionalism
Methods
Investigative interviewing
Accident/Incident analysis (using linear, epidemiological and systemic methods as a toolkit for the investigator)
Human Factors analysis
Safety I and Safety II perspective
Understanding Sociotechnical complexity and the implications for investigation
Dealing with families, the public and healthcare professionals (understanding all are crucial and integral to the investigation)
These are just some of the new approaches and techniques being utilised by the National Investigators and the feedback from healthcare seems to be very positive regarding this new direction. The HSIB published their first safety investigation reports in the summer of 2018 – "Investigation into the implantation of wrong prostheses during joint replacement surgery" and "Investigation into the transition from child and adolescent mental health services to adult mental health services".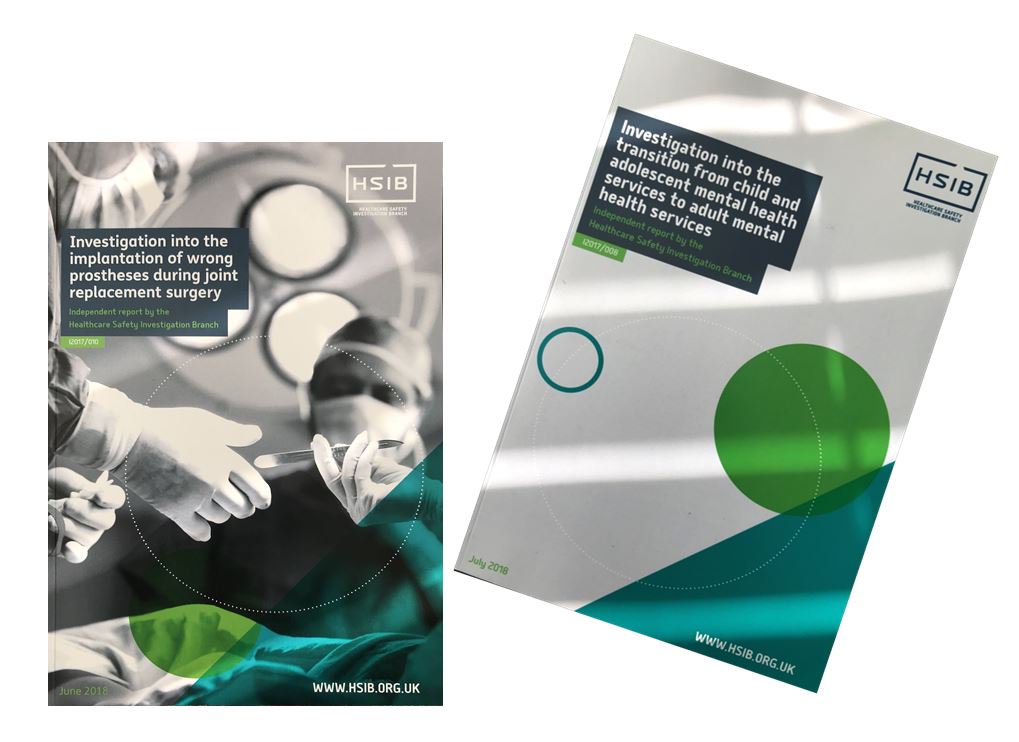 In November 2017 the Secretary of State for Health (still Jeremy Hunt at that time) announced in the UK parliament that this new approach to safety investigation in healthcare was to be extended to look specifically at safety events in maternity. 1,000 investigations were to be carried out over a 12 month period in order to learn lessons which could be shared at a national level to improve system safety. In response to this, Cranfield University and maternity specialists at Southmead Hospital (North Bristol NHS Trust) set out to pilot and then deliver a maternity investigation specific training course.
This course has now been delivered four times this year - one further course in 2018 and two scheduled for early 2019, will aim to ensure enough investigators are properly prepared for this huge undertaking.
So, what is next?
HSIB has become a state level safety investigator alongside Air, Rail, and Marine. Cranfield University aims to continue working closely with HSIB in order to ensure all future training and research remains relevant and world leading in this specialist area (as HSIB currently are).
Competency frameworks for both national and Trust investigators are being developed, healthcare investigator education and certification as formal qualification is also being considered by Cranfield University. This is in line with other high reliability organisations and as such is a key area for development; very exciting and rewarding times for all of us striving for improvements in patient safety.