What are the new opportunities in the world of ground handling?
By Jim Nixon - January 30, 2020
Ground handling is a vital component of the aircraft turnaround, including the loading and unloading of passengers, refuelling, cleaning and loading supplies onto the aircraft. Operators and airports may encounter different styles of operation depending on the airport and the country in which the aircraft departs or arrives. Passengers demand a seamless transition from check-in to boarding and disruption and delay has a cost for airlines and airports.
At Cranfield University, Dr Tom Budd and Dr Jim Nixon, in collaboration with colleagues in the Centre for Air Transport Management and the Centre for Safety and Accident Investigation, are developing a new lab within the Digital Aviation Research and Technology Centre (DARTeC), looking at ground operations in aviation. The Ground Operations Lab or GO Lab will research new opportunities in the rapidly evolving world of ground handling, and will contribute to DARTeC's "Seamless Journey" research theme.
New technology is changing the way in which this work is achieved. Recently at Heathrow, British Airways (BA) have introduced electronically powered Mototok tugs, which have improved the operational and environmental efficiency of aircraft ground operations. This is one of a number of new innovations that are being developed and deployed to improve the safety and efficiency of ground operations.
Attendance and contribution at the International Air Transport Association (IATA) New Experience Travel Technologies (NEXTT) design bootcamps inspired the creation of the GO Lab concept. IATA NEXTT is a vision of the future of air travel and how the industry might change in response to new technology and demands from customers. At the design bootcamps, groups, which include industry and academia, are presented with new challenges and, using a design process, present new concepts which can meet the challenges within the IATA NEXTT vision. Dr Nixon presented at the Madrid IATA NEXXT bootcamp on the new approaches to ground handling system and communications using technology, while Dr Budd presented at the Warsaw design bootcamp on how digital technologies can be leveraged to improve the travel experience for passengers with additional needs. Together, they have developed a research roadmap for the GO Lab, which incorporates themes relating to the different challenges that arise when considering new technology and new ways of working in this area of aviation operations.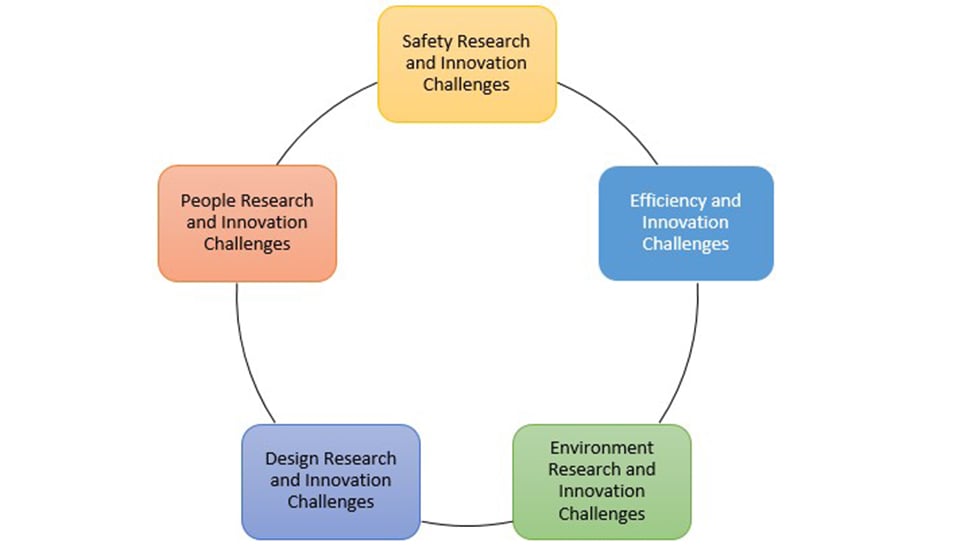 Emergent themes and challenges
Safety
Aircraft turnaround is safety-critical. Reducing harm to assets and to employees are important drivers of research, innovation and education in this area. Working practices need to evolve to safely meet new capacity demands. During the turnaround people and assets contact the aircraft to prepare the aircraft for onward travel. Physical damage to the aircraft is one key risk that can delay and disrupt dispatch and that may represent a serious risk if not known or reported. Turnaround is a sociotechnical system, which includes people and technology being deployed to deliver a goal in a limited time. Our knowledge of the nature of this system and the interactions between the different activities remains low. Given increasing trends towards automation, connected systems and artificial intelligence across the turnaround process, there is an urgent need to address key emerging safety and safeguarding issues. Improving system understanding and interaction will give rise to new insights, which can drive safer working practices and behaviour, reducing risk of physical damage to the aircraft and personnel in the future.
Safety research and innovation challenges
How do aspects of the work contribute to safe or less safe working?
What are the safety and certification challenges associated with increased automation of the turnaround process?
How can innovative training and education be utilised to enhance safety among ground operations personnel?
Efficiency
Growth in global passenger numbers and cargo volumes is already having an impact on airport capacity, with many of the busiest airports in the world experiencing regular problems of congestion and delays. With forecasted future growth, and with little prospect of significant airport expansion in key markets in the short to medium term (particularly, in Europe and North America), the prospect of increased systemic delays and inefficiency looms. As a result, there is a need for aircraft turnarounds to be both faster and more predictable, while maintaining and exceeding safety standards. In this context, the ground operations industry must devise innovative solutions in terms of equipment, processes and systems to help streamline communication channels among stakeholders, and help facilitate the increased automation of key turnaround functions.
Efficiency research and innovation challenges
How can data and technology be used to accurately track service timing and predict turnaround times?
How can enhanced processes and training be used to help reduce turnaround times?
How can redesigned ground service equipment (GSE) be used to reduce damage to aircraft and personnel industries?
Environment
With global demand for air transport forecast to grow significantly in the coming years, and heightened societal awareness and political focus on issues of climate change and environmental degradation, the need for the air transport industry to successfully address its environmental externalities has never been more urgent. While much of the research and discourse in this area focuses on aircraft in-flight, it is equally important that the environmental impacts of aircraft on the ground are also considered. These impacts include local air quality and noise annoyance issues from protracted aircraft taxi and on-stand (especially when running auxiliary power units or during engine runs), as well as considerable waste generation from in-flight cabin operations.
Environment research and innovation challenges
How can the next generation aircraft propulsion systems (e.g. electrification) reduce emissions and noise?
How can we meet the varied challenges of incorporating these new propulsion systems into legacy infrastructure and supply chains?
How can we incorporate renewable and resilient energy generation and usage at airports using innovative technologies, processes and business practices?
Design
While technological and design innovations in aircraft design, propulsion efficiency and airport terminal design have advanced considerably in the last few decades, airside infrastructure has evolved little over this time, and is still based on the same layout using the same fixed equipment types. From an infrastructure and airport design perspective, with wider industry trends towards electrification and automation (both of aircraft, GSE and support vehicles), there is a need for ground airside infrastructure to help reflect and assist these changes (for example, in terms of electrical charging infrastructure). To this end, the ramp of the future has a key role to play in facilitating aviation's transition to a more efficient, safer and more sustainable future.


Design research and innovation challenges
How can aircraft stand infrastructure be designed to facilitate reduced vehicle congestion, and enhanced aircraft movement, during the turnaround?
How can existing airside infrastructure be best retrofitted to improve efficiency?
How can trends towards increased automation and electrification be reflected in overall airport design?
People and skills
Traditionally, ground handling firms have found it hard to both recruit, and then retain, ground staff due to the working conditions that are often perceived to be unappealing by the predominantly relatively low-skilled, low-paid workforce (outside, physically demanding, noisy, dirty, 24-hour nature). For this reason, staff turnover is typically very high, creating a significant time and resource cost for employers in terms of recruitment and training. At the same time, technological changes and increased automation are changing the skills and qualification demands of ground handlers and those who manage them, while broader trends towards transferable skills and role flexibility within the workplace have created demands for training and education solutions focused on upskilling and capability diversification. New technologies, including the increased role of VR and related immersive technologies, present an opportunity in terms of reducing time, resource and financial constraints typically associated with this type of training and skills provision.


People research and innovation challenges
How can new technologies (e.g. VR and immersive technologies) be used and integrated with existing skills training provision?
How can enhanced management training drive improved performance and retention?
How can broader changes within the industry (e.g. automation) be reflected in terms of skills requirements of ground handling staff?